January 2, 2010
Issue 77 - Predictions
This week I do my yearly look ahead and what I think might happen. This advice is worth what you pay so don't sue me, even at treble damages, it just wouldn't be worth your while. So let's get right to it.
Economy
I foresee the economy having a slight rebound but it will be a struggle, especially after the first three months of the year. We could go well until the middle of the year, but after that I see the dreaded "double dip" recession taking over. The amount of debt sitting on top of us will eventually win out. This type of headline, I fear, will become more and more common:

Commodities - Food

More bailed-out community banks failing to pay U.S. dividends

By Binyamin Appelbaum


Washington Post Staff Writer
Tuesday, December 22, 2009; A14

A growing number of community banks that got federal bailouts are failing to pay quarterly dividends they owe to the government, including two banks that got aid after congressional intervention on their behalf, according to data released Monday by the Treasury Department.

Fifty-five banks failed to make dividend payments in November, a 67 percent jump over the number of delinquent banks three months earlier.

The missed payments reflect the struggles of many community banks, which have not benefited from the Wall Street windfalls that have helped return the largest banks to profitability. Many smaller banks focused their lending on real estate development in recent years, particularly in the suburbs of sprawling Sun Belt cities. The banks now are losing money as developers default on those loans…

The banks being so weak, will just hinder us further, as they are NOT lending. As the short blurb shows, they are even having trouble paying dividends. Remember, banks, unlike other types of business, ALWAYS pay dividends to their stock owners. The fact that some are not, is a bad omen. Economic prediction: weakness.



Job Market
The job market will not improve this year, unless you count "not losing as many jobs as we were" as improving. The fundamentals are still very weak a "less bad" is all I would hope for. CNBC is overjoyed with the most tepid of improvements. Larry Kudlow is ready to pop the champagne at the drop of a hat. Don't listen to him. Listen to the economic headlines:
Small-business bankruptcies rise 81% in California
With credit tight and consumers still pinching their pennies, many business owners find they can't go on.
December 22, 2009
The Obama administration's new plan to give a boost to small businesses reflects continued trouble in that sector, which is facing new failures even as much of the nation's economy is stabilizing.

As credit lines have shrunk and consumers have cut back on spending, thousands of small businesses have closed their doors over the last year. The plight of struggling firms has been aggravated by the reluctance of banks to lend money, said Brian Headd, an economist at the Small Business Administration's office of advocacy.

"While bankruptcies are up, overall, small-business closures are up even more," Headd said.

California has been particularly hard hit. The latest data show small-business bankruptcies up 81% in the state for the 12 months ended Sept. 30, compared with the previous year. Filings nationwide were up 44%, according to the credit analysis firm Equifax Inc.

The actual number of small businesses in trouble is probably higher, experts said, because many owners file for personal bankruptcy rather than seek protection for the business…
Small businesses account for over half of all employment, so this is not a good sign. In fact, in the last decade, small businesses have been the source of 70% of the new jobs. If small businesses aren't creating jobs and/or failing you can expect more of this:
States' jobless funds are being drained in recession
By Peter Whoriskey
Washington Post Staff Writer

The recession's jobless toll is draining unemployment-compensation funds so fast that according to federal projections, 40 state programs will go broke within two years and need $90 billion in loans to keep issuing the benefit checks.
The shortfalls are putting pressure on governments to either raise taxes or shrink the aid payments.
Debates over the state benefit programs have erupted in South Carolina, Nevada, Kansas, Vermont and Indiana. And the budget gaps are expected to spread and become more acute in the coming year, compelling legislators in many states to reconsider their operations.
Currently, 25 states have run out of unemployment money and have borrowed $24 billion from the federal government to cover the gaps. By 2011, according to Department of Labor estimates, 40 state funds will have been emptied by the jobless tsunami.
"There's immense pressure, and it's got to be faced," said Indiana state Rep. David Niezgodski (D), a sponsor of a bill that addressed the gaps in Indiana's unemployment program. "Our system was absolutely broke."…
Isn't that special. 25 states are out of unemployment money. Don't worry the federal government will lend them money. What's that you say? The federal government doesn't have any money. That's all right, they can just borrow some more. Until they can't. Then it's game over. You see, this game of borrowing more and more money only works when someone is stupid enough to keep lending to the dead beat (that's us) and then our debt costs will explode. Why will they explode? Because interest rates have nowhere to go but up which means less hiring. Job Market outlook: continued weakness.
Which takes us to:
Interest Rates
CDs at Fidelity



CD Rates

Rates as of 12/23/09 (APY)

See Today's Rates




| | |
| --- | --- |
| 3 month | 0.20% |
| 6 month | 0.35% |
| 12 month | 0.60% |
The rates shown above are not out of the ordinary as you probably know from any "interest bearing" (haha) checking account you may have. The federal reserve rate is less than .25%. Where exactly are interest rates going to go? I refinanced my house last month in anticipation of this. This is the easiest prediction of them all. Interest rates will rise this year. End of story.
Stock market
One would think that I would be predicting that the stock market would have a poor year based on my other predictions. Not true. The stock market is NOT directly related to anything. It can go up and down based on the wind. What I can say is that the earnings of the big companies, the S & P 500 stocks, will not be poor. How can I KNOW that? This chart from contraryinvestor.com:
The CFO of a company is the Chief Financial Officer. They think earnings will improve so If you think earnings are going to be bad, at least in the next two quarters, you must be drinking. This is their JOB. Earnings in the big companies will be at least decent. I think it is a decent risk to be in the market at least for the first quarter. I would then look to scale out as the months progress. Remember we are up like 60% from the lows without a single large correction. I think we get that correction sometime in the last half of the coming year. One last chart (thanks to Jim) showing what you already know if you've been in stocks the last decade-----it was a sucky investment. I don't expect any great shakes this year either....prediction......market down from here by the end of the year.
Housing
The house shown above is real. There are many of these in the lowlands of New Guinea and Indonesia. I believe that the United States housing market has a foundation about as solid as these. The only reasons the housing market has come back slightly is the $8,000 government housing credit and the break in refinances of low interest rate loans. The credit may continue, but the refis will start ramping up here. This will put increasing pressure on home prices. That, and the fact that there are just too many darn houses out there.
House prices have pulled out of their free fall, but don't expect them to recover until we work through a huge property glut.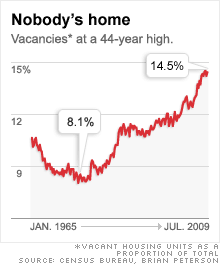 NEW YORK (Fortune) -- The lights are on in the housing market. But at more and more places, nobody's home.
House prices have risen in recent months after a long plunge, according to the National Association of Realtors and the S&P Case-Shiller national index. Fewer Americans owe more than their property is worth, according to a report this week from Zillow.com.
But a full-fledged housing recovery will remain elusive until the market can absorb all the houses and apartments that were built during the housing boom. And on that front, progress has been slow.
About one in seven housing units was vacant in the third quarter, according to the Census Department. This year has registered the highest reading since the government began collecting such data in 1965.
Part of the glut comes from a rash of foreclosures as strapped borrowers fall behind on their mortgages.
But rental apartments are emptying out at a record clip as well, as a spike in the jobless rate and a decade of subpar wage growth have sent many Americans back home to live with Mom and Dad.
And some owners, such as Treasury Secretary Tim Geithner, have decided to rent their houses out after they couldn't sell them.
"There's just too many houses out there for the population we have," said Brian Peterson, an economist at Indiana University who focuses on housing. "The market's going to take a couple years to clear."
The homeowner vacancy rate dropped to 2.6% in the third quarter from 2.8% a year ago, when homeowner vacancies hit their all-time high. But a jump in the rental vacancy rate, to 11.1% from 9.9% a year earlier, more than offset that decline.
Because twice as many people own their homes as rent, the total vacancy rate -- 14.5% in the third quarter -- exceeds the sum of the homeowner and rental vacancy rates.
The rise in vacancies comes after a decade in which homebuilders, motivated by easy financing and rising prices, built many more homes than the U.S. needed.
About 1.2 million households are formed each year, on average, according to government estimates. But housing starts averaged 1.7 million a year between 1996 and 2006, when the boom topped out.
"There was some overbuilding during that period," said Walter Molony, a public affairs specialist at the National Association of Realtors.
Since then, housing starts have dropped sharply, allowing the market to soak up some of the excess. And prices have dropped precipitously in the most overbuilt markets in the South and West, luring some buyers off the sidelines.
Peterson also notes that the vacancy numbers have expanded over the years to include more types of vacant homes, such as seasonally occupied beach houses.
So the housing market is bad will stay that way. Just an FYI, Washington DC is now the best housing market in the U.S. Obviously, this is due to the huge government worker population. Things are much worse elsewhere. Housing outlook.......lower from here on out.
Dollar
The chart above tells you all you need to know about the dollar. It has been on a downward trajectory since the (not really) Federal Reserve came into existence. The dollar has rallied over the last several months but this is only a pause before the inevitable decline begins again. This chart is telling:
This shows the monetary base (money supply) and if you look at the right side, you will see a rocket ship. This is the amount of extra cash that is sloshing around the system. Increased supply equals lower value, easy. Dollar.......down.
Government Corruption

This is another easy prediction. In fact, it's more of an observation. Our government will get more and more corrupt in the coming year. The basic reason for this is money. It drives everything and the Federal Reserve is behind it all. Here are three videos showing how these people at treasury and the Fed could care less about what anyone thinks.: (Warning: watching these could make you ill.)
The last video showing Greenspan admitting that the Fed answers to NOONE, is the killer. What's amazing is that he tells the truth. Two other videos are guys lying, which is the norm. This will only continue and we, the people, will take it in the shorts, like here: (I remember being told these stock buys were investments)
U.S. to Lose $400 Billion on Fannie, Freddie, Wallison Says
By Betty Liu and Matthew Leising
Dec. 31 (Bloomberg) -- Taxpayer losses from supporting Fannie Mae and Freddie Mac will top $400 billion, according to Peter Wallison, a former general counsel at the Treasury who is now a fellow at the American Enterprise Institute.
"The situation is they are losing gobs of money, up to $400 billion in mortgages," Wallison said in a Bloomberg Television interview. The Treasury Department recognized last week that losses will be more than $400 billion when it raised its limit on federal support for the two government-sponsored enterprises, he said.
The U.S. seized the two mortgage financiers in 2008 as the government struggled to prevent a meltdown of the financial system. The debt of Fannie Mae, Freddie Mac and the Federal Home Loan Banks grew an average of $184 billion annually from 1998 to 2008, helping fuel a bubble that drove home prices up by 107 percent between 2000 and mid-2006, according to the S&P/Case- Shiller home-price index.
The Treasury said on Dec. 24 it would provide an unlimited amount of assistance to the companies as needed for the next three years to alleviate market concern that the government lifeline for Fannie Mae and Freddie Mac, the largest source of money for U.S. home loans, could lapse or be exhausted.
Lax regulation of Fannie Mae and Freddie Mac led to the mortgage companies taking on too many risky loans, Wallison said.
"It turns out it was impossible to regulate them," he said. "They were too powerful." He said no one knows how much will be needed to keep the companies solvent.
From 1990 to 1999, Wallison served on the board of directors of MGIC Investment Corp., the largest U.S. mortgage insurer, including a stint on the audit committee, according to Bloomberg data and company filings.
The continued government support of Fannie Mae and Freddie Mac makes buying their debt a good investment, Wallison said.
"It was always safe to buy these notes," he said. The U.S. government was always going to stand behind them. They're as good as Treasury notes."
Wow, impossible to regulate? Why did we "invest" again? Looks like another taxpayer screw over to me. This prediction is almost as easy as interest rates...corruption up.
This, I believe, will finally be one of the most profitable areas to be invested. My attempt at riches with DBA (ETF invested in wheat, soy, sugar and corn) options last year proved a failure. While DBA itself is only down about 10%, my options are near worthless with less than 3 weeks left of life. We still have historic record low food inventories and drought conditions are wide spread:
California is our nation's number one state in terms of agriculture production. Rainfall in California for Water Year 2009 was down 24% from average annual precipitation. This was California's third consecutive year of below average precipitation. California's Water Resources Department is now estimating that in 2010, they will deliver only 5% of the water promised under their contracted allotments compared to the average of 68% over the past decade. Many California reservoirs are now at only 30% of capacity.
Food prices should head up this year as demand exceeds supplies. DBA should head up also. Food prices.....higher.

What can I say about gold? It's been up 9 straight years. I like the chances for 10. The government continues to aid and abet the control of it's price. Silver has lagged a bit, but there is a reason:
Silver Stock Report
by Jason Hommel, December 21st, 2009

Once again, the BIS data on derivatives is totally ignored by all gold and silver market participants and commentators. Nobody mentioned this new BIS data update from my last newsletter.

The BIS data proves the huge extent of the fraud in the banking system, particularly in all forms of paper silver accounts.

The "other precious metals" derivatives notional value, which are mostly all silver, (but also tiny amounts of platinum and palladium) grew, over the last 6 months, from $96 billion to $203 billion, for an increase of $107 billion.

But the size of the silver market cannot be significantly larger than annual production, which stands at about 600 million ounces, x $17/oz. = $10 billion.

Simple question: How can the banks of the world, owe $107 billion more in brand new "mostly silver" derivatives positions over a 6 month time frame, given that world annual production stands at a mere $10 billion, without that silver being mostly all fraud?
This is beyond nonsense and nobody says a word, AND they are supposedly looking into silver manipulation? What are they looking for....guys with masks and guns? Obviously, this is deliberate. Couple that with fact that central banks are now net BUYERS, and gold has no where to go but up in the long term.
I also received the new Money magazine and they have two gold articles in them...both negative. We are a long way from a top in either metal. There is also one "criticism" that I hear over and over about gold, "you can't buy the groceries with gold." What I would love to ask these soothsayers in person is, "Can you buy groceries with Savings bonds or Amazon stock shares?" This criticism is totally without merit. Don't listen to the "experts", buy gold and silver. Prediction....10 years up in a row. Have a great week!