February 13, 2010
Issue 83 - Never Say Never
hubris - [hyoo-bris, hoo-] – noun - excessive pride or self-confidence; arrogance.
Once in awhile, a public official says something so inane, so arrogant and delusional that it boggles the mind. This picture perfectly crystallizes the state of our public officials. We are indestructible. We are on top of the mountain and deserve to be there. We are destined to always be on top. Here's the story:
Geithner Says U.S. Will 'Never' Lose Aaa Debt Rating

Feb. 8 (Bloomberg) -- Treasury Secretary Timothy F. Geithner said the U.S. is in no danger of losing its Aaa debt rating even though the Obama administration has predicted a $1.6 trillion budget deficit in 2010.
"Absolutely not," Geithner said, when asked in an ABC News interview broadcast yesterday whether a downgrade is a concern. "That will never happen to this country."
Geithner said investors around the world turn to U.S. Treasury securities and dollar-denominated assets whenever they are worried about global stability. That reflects "basic confidence" in the U.S. and its ability to bounce back from the global recession, he said.
Moody's Investors Service Inc. last week said the U.S. government's bond rating will come under pressure in the future unless additional measures are taken to reduce budget deficits projected for the next decade.
The U.S. plans to rein in the deficit once the labor market recovers, Geithner said. In the short run, that means focusing on ways to "make sure that this economy is growing again," he said. The administration says the deficit will shrink over the next four years as more Americans find jobs and the economy accelerates.
So an incredibly educated man uses the word "never". Of course that's usually a mistake. Maybe he believes this swill or maybe he is lying but it, no doubt, is bunk. This country is a shell of it's former powerhouse self and no amount of pronouncements will change that. We are bordering on bankruptcy, with liabilities totaling $100 trillion and everyone wants to focus on tiny Greece. Their whole debt is less than $400 billion. That's less than California owes alone! Why isn't anyone talking about the United States needing a bailout? That would be bad form and just speed the demise, better to talk a strong game and hope to delay the inevitable. Budgets are crumbling all over the country, just look at Nevada: (thanks to Jim)
Governor plans emergency address on Nevada budget
February 7, 2010 - 2:57pm
By SANDRA CHEREB
Associated Press Writer
CARSON CITY, Nev. (AP) - Nevada's budget is so far out of balance that by one account the state could lay off every worker paid from the general fund and still be $300 million in the red. The economic downturn has hit so hard that prisons may be closed, entire colleges shuttered and thousands left without jobs.
Against the backdrop of an imploding economy and an $881 million shortage, Gov. Jim Gibbons will try in an emergency "State of the State" address Monday to explain the depth of the state's financial crisis and how fixing the gaping hole in the budget.
It won't be pretty.
Nevada, with a heavy reliance on discretionary spending through gambling and sales taxes, has been especially hard hit by the recession as tourists and gamblers hold on to their money. The state's unemployment rate has hit 13 percent, and a once booming housing market that created thousands of high-paying construction jobs has gone bust, with Nevada topping the nation in foreclosures.
In his address, Gibbons plans to call the Legislature into a special session in late February and instruct lawmakers on areas they can focus on. It will be left to the state Assembly and Senate to tackle painful education and social services cuts.
"Nevadans need to get used to the idea of shrinking state government," said Gibbons' spokesman Daniel Burns.
Senate Majority Leader Steven Horsford, D-North Las Vegas, said Nevada faces "very, very ugly" options. Horsford will give the Legislature's response immediately after Gibbons' televised 6 p.m. speech.
Details of the governor's address have not been released. But the first-term Republican who is seeking re-election has released pages of proposals for closing the hole in the $6.9 billion budget passed by the 2009 Legislature.
The governor has said he anticipates 234 state layoffs, and notices already are being sent to employees who must be given a 30-day warning.
How do you fix a budget that couldn't be balanced even after laying off EVERYONE? This is not the exception anymore, it is the norm. Pennsylvania is even contemplating bankruptcy and many states are planning large cuts. Here's the "top 10" worst:
These numbers are disastrous. It's very difficult to make up these types of shortfalls. Expect huge cuts in education and other services. Part of the reason for these huge shortfalls is the giant drops in housing. But housing is "coming back" isn't it? Well....not really:

Housing Double Dip? Zillow Says Yes, NAR Can't See It
Analysis of 4Q/2009 data by Zillow.com indicates that some markets are poised for a double dip in prices. The following graph shows the results for their national home value index, published Frebruary 9: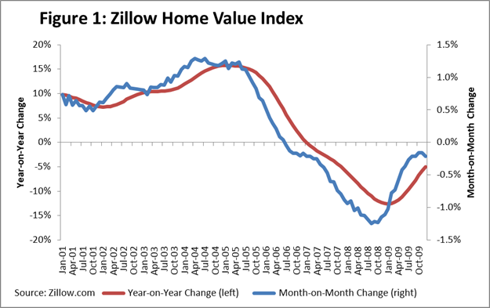 The NAR (National Association of Realtors) also has a fourth quarter housing report published in February 11 which does not see any downturn. This press release says home prices are stabilizing. Here is some of what was said in the NAR report:
Strong gains in existing-home sales were the predominant pattern in most states during the fourth quarter, with many more metro areas seeing prices rise from a year earlier, according to the latest survey by the National Association of Realtors ®.

In the fourth quarter, 67 out of 151 metropolitan statistical areas reported higher median existing single-family home prices in comparison with the fourth quarter of 2008, including 16 with double-digit increases; one was unchanged and 84 metros had price declines. In the third quarter only 30 MSAs showed annual price increases and 123 areas were down.
Lawrence Yun, chief economist for the NAR, was frequently quoted in the report. Here is some of what he had to say:
The national median existing single-family price was 2,900, which is 4.1 percent below the fourth quarter of 2008; the median is where half sold for more and half sold for less. "This is the smallest price decline in over two years, with the most recent monthly data showing a broad stabilization in home prices," Yun said.

"Because buyers are taking on long-term fixed rate mortgages, avoiding adjustable-rate products, and trying to stay well within their budgets, the price recovery process appears durable," Yun said.
Results from the NAR for January existing home sales, due in about two weeks, will do much to indicate if a double dip may actually occur (per Zillow) or that happy days are here again (per the NAR). Either result will not be confirmed until the March data is out in late April.
So who are we to believe here? The guys whose job it is to convince you to buy houses (NAR), or a "I haven't got a dog in this fight" observing group (Zillow)? Hmmm.......that's a tough one.....NOT! Remember NAR is the clown outfit that was claiming in 2006 that it was STILL a great time to buy a house. Notice a pattern here? I'll take the non-involved observer. Let's look at real unbiased piece of data:
US home loan demand drops despite drop in rates
NEW YORK, Feb 10 (Reuters) - U.S. mortgage applications dipped last week, reflecting reduced demand for home purchase loans even as rates on 30-year loans fell to their lowest since December, data from an industry group showed on Wednesday.
A continuation of lackluster demand for home purchase loans would not bode well for the U.S. housing market, which remains highly vulnerable to setbacks and heavily reliant on government intervention.
The Mortgage Bankers Association said rates on 30-year fixed-rate mortgages, the most widely used loan, fell below 5 percent for the first time since the week ended Dec. 18. Low mortgage rates fueled a slight uptick in demand for home refinancing loans last week, with activity reaching its highest level since the week ended Dec. 11.
The MBA's seasonally adjusted index of mortgage applications , which includes both purchase and refinance loans, for the week ended Feb. 5, decreased 1.2 percent.
So do you think housing is looking good when the demand for the source of the funds to buy those houses is down? Didn't think so. This is spin, don't fall for it. Now is the time to SELL a house, not buy. You'll be selling near the top. Need more evidence? How about the state of the jumbo mortgage market, these are loans over $417,000:
Jumbo Mortgage 'Serious Delinquencies' Rise to 9.6%
Feb. 8 (Bloomberg) -- U.S. prime jumbo mortgages at least 60 days late backing securities reached 9.6 percent in January from 9.2 percent in December, the 32nd straight increase for "serious delinquencies," according to Fitch Ratings.
"The trend line for delinquencies indicates the 10 percent level could be reached as early as next month," Vincent Barberio, a Fitch managing director in New York, said today in a statement. The rate almost tripled in 2009, Fitch said.
Soured debt across loans backing so-called non-agency securities ballooned last year amid new defaults caused by slumps in home prices and employment, and as the federal government pushed loan servicers to consider debt modifications and states moved to slow foreclosures, reducing property liquidations after borrowers stopped paying…
Wow, shouldn't these people be in better shape? They can afford bigger houses and loans, right? If they are imploding, this housing crisis is not limited to the lower class (subprime) home buyers that some would suggest. Maybe it's a better time to buy some commercial real estate:
Bailout panel cites commercial real estate danger
By DANIEL WAGNER, AP Business Writer Daniel Wagner, Ap Business Writer Thu Feb 11, 12:07 am ET
WASHINGTON – Over the next several years, failed commercial real estate loans could litter American cities with empty stores and office complexes, cause hundreds of bank failures and weaken the economy, a watchdog report says.
Banks face up to $300 billion in losses on loans made for commercial property and development, according to a report released Thursday by the Congressional Oversight Panel. The panel monitors the government's efforts to stabilize the financial system.
The report says the defaults could lead to reduced lending and cause the eviction of families from rental properties. Bank failures also could contribute to job losses and hurt the economic recovery.
Smaller banks are more vulnerable to the losses than their larger Wall Street counterparts. That's because commercial real estate makes up a larger portion of their portfolio.
The Federal Deposit Insurance Corp., which manages bank failures and insures deposits, is under stress that will intensify over the next few years, panel chairwoman Elizabeth Warren said in a call with reporters.
Small- and mid-size banks have been failing at the fastest rate since the savings and loan crisis of the 1980s and 1990s. The failures are due mostly to bad loans they made for commercial projects…
More vacancies, evictions and defaults, that doesn't sound like a recipe for an economic recovery does it? In fact, that sounds like the start of more trouble to me.
I mentioned Greece earlier and I found a very interesting graphic from Zero hedge. Take a look:

What you see here is the official debt versus the total liabilities. Remember that liabilities are things you have promised while the debts are things you contractually owe. Look how large the gray bars are compared to the "debts". This is one of the ways politicians can make things seem better than they are. These "off balance sheet" items are not counted in the debt figures thrown around by the pols. Obviously if they included the liabilities things would be much, much bleaker. In fact, bankrupt bleak. We, as a world are teetering on the edge of a total meltdown. When will it occur? Wish I knew. I do know it WILL come, just like I know a ball will hit the ground after it's thrown.
All of this is going on while the thieves are stealing right from under our noses. This video shows an unbelievable level of cronyism and under the table dealing. If you aren't mad after seeing this, you might want to pick up a case of Jolt Cola because you are obviously comatose.
This just makes me ill. These guys have no shame and apparently no threat of prosecution. This is unfathomable. These guys are buying home mortgages and then ACTIVELY trying to get short sales. That is, actively trying to get people out of their homes. This is in direct contradiction to Obama's plan to "rework" mortgages. These guys have every incentive in the world to kick people out! And tax dollars are being paid to them to do it! The FDIC came out with a "rebuttal" that these guys don't get their insurance until a threshold of "losses" is reach. Wow, that makes me feel better, these guys now have to work HARDER on getting more short sales so they reach their threshold, or they don't get their "insurance." Disgusting. Is this the best government we can get? Stop playing the red versus blue game! It only continues the problems. A third party is the only way now.
But a third party will never work you say. I'm wasting my vote! You're wasting it anyway thinking that blue versus red makes a difference so at least get their attention. Never say never. That is what the establishment wants you to think, from Obama, to Palin, to Sean Hannity, to Nancy Pelosi. As long as you play their game, you CAN'T WIN! Stop thinking you can. No one is going to "take the Republican Party back." It was never the peoples to start with. The elite now control the game. Think for yourself and vote independent or Libertarian, whatever, ANYTHING but red or blue. If you still haven't got mad enough, here's more fuel for the fire:
Ellen Brown
February 5, 2010
www.webofdebt.com/articles
Rumor has it that Timothy Geithner is on his way out as Treasury Secretary, due to his involvement in the AIG scandal that is now unraveling in hearings before the House Oversight and Reform Committee. Bob Chapman writes in The International Forecaster:
Each day brings more revelations of efforts of the NY Fed and Goldman Sachs to hide the details of the criminal conspiracy of the AIG bailout. . . . This is a real crisis on the scale of Watergate. Corruption at its finest.
But unlike the perpetrators of the Watergate scandal, who wound up looking at jail time, Geithner evidently has a golden parachute waiting at Goldman Sachs, not coincidentally the largest recipient of the AIG bailout. At least that is the rumor sparked by an article by Caroline Baum on Bloomberg News, titled "Goldman Parachute Awaits Geithner to Ease Fall." Hank Paulson, Geithner's predecessor, was CEO of Goldman Sachs before coming to the Treasury. Geithner, who has come up through the ranks of government, could be walking through the revolving door in the other direction.
Geithner has been under the House microscope for the decision of the New York Fed, made while he headed it, to buy out about $30 billion in credit default swaps (over-the-counter derivative insurance contracts) that AIG sold on toxic debt securities. The chief recipients of this payout were Goldman Sachs, Merrill Lynch, Societe Generale and Deutsche Bank. Goldman got $13 billion, roughly equivalent to its bonus pool for the first 9 months of 2009. Critics are calling the New York Fed's decision a back-door bailout for the banks, which received 100 cents on the dollar for contracts that would have been worth far less had AIG been put through bankruptcy proceedings in the ordinary way. In a Bloomberg article provocatively titled "Secret Banking Cabal Emerges from AIG Shadows," David Reilly writes:
[T]he New York Fed is a quasi-governmental institution that isn't subject to citizen intrusions such as freedom of information requests, unlike the Federal Reserve. This impenetrability comes in handy since the bank is the preferred vehicle for many of the Fed's bailout programs. It's as though the New York Fed was a black-ops outfit for the nation's central bank.
The beneficiaries of the New York Fed's largesse got paid in full although they had agreed to take much less. In a November 2009 article titled "It's Time to Fire Tim Geithner," Dylan Ratigan wrote:
[L]ast November . . . New York Federal Reserve Governor Tim Geithner decided to deliver 100 cents on the dollar, in secret no less, to pay off the counter parties to the world's largest (and still un-investigated) insurance fraud -- AIG. This full payoff with taxpayer dollars was carried out by Geithner after AIG's bank customers, such as Goldman Sachs, Deutsche Bank and Societe Generale, had already previously agreed to taking as little as 40 cents on the dollar. Even after the GM autoworkers, bondholders and vendors all received a government-enforced haircut on their contracts, he still had the audacity to claim the "sanctity of contracts" in the dealings with these companies like AIG.
Geithner testified that the Fed's hands were tied and that the bank could not "selectively default on contractual obligations without courting collapse." But if it was all on the up and up, why all the secrecy? The contention that the Fed had no choice is also belied by a recent holding in the Lehman Brothers bankruptcy, in which New York Bankruptcy Judge James Peck set aside the same type of investment contracts that Secretaries Paulson and Geithner repeatedly swore under oath had to be paid in full in the case of AIG. The judge declared that clauses in those contracts subordinating other claims to the holders' claims were null and void in bankruptcy.
"And notice," comments bank analyst Chris Whalen, "that the world has not ended when the holders of [derivative] contracts are treated like everyone else." He calls the AIG bailout "a hideous political contrivance that ranks with the great acts of political corruption and thievery in the history of the United States."
Let me put this in real simple terms. Goldman made some REAL stupid bets and bought "insurance" from AIG on these bets in case they soured. During the "collapse" of 2008 it looked like the stupid bets were going to fail. AIG was (and is) bankrupt and was not going to be able to pay Goldman on their "insurance" claims. Geithner and his buds decided that AIG would have to be taken over by the US Government to "save" the system. This was (and is) a lie. AIG then used taxpayers dollars to pay Goldman on their "insurance" at 100 cents on the dollar. Had AIG gone into bankruptcy court, Goldman would have lost billions. Sleazy. Corrupt. Par for the course in our government. Exactly what you get when play the red versus blue game. Don't fall into the same trap Geithner did, never say never. Have a great week!
j